Breastfeeding and Colic in Baby

Colic in a Breastfed Baby
Colic is associated with excessive crying and periods of fussiness, caused by mostly gas, resulting in pain.
Some believe that certain foods a breastfeeding mother eats contribute to colic, but there are many possible causes of infant colic.
Colic babies should be gaining weight and producing a certain amount of wet and soiled diapers daily (different according to age); otherwise, there might be other issues to address.
Did you know that the way you change your baby's diaper could be causing colic symptoms? Learn more about the diaper-changing method that prevents colic.
Many people think that only formula-fed babies experience colic, but this is not true. Breastfed babies can become colic too.
~ Interesting fact ~ Colic occurs in about 30% of all babies and is most common during the first 3 months of a baby's life.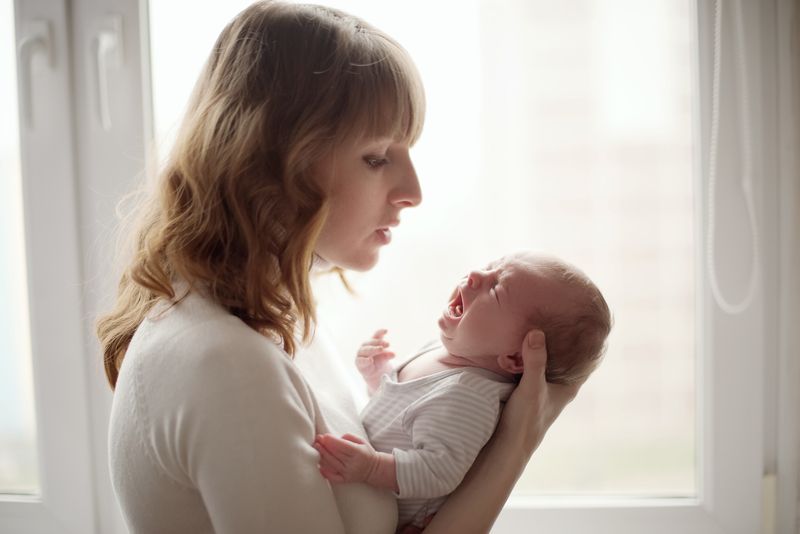 What Causes Colic?
Remember, not all babies are the same. A mother should try some of the following to eliminate her baby's specific colic and breastfeeding problems.

~ Interesting fact ~ Intolerance to milk protein has nothing to do with being lactose intolerant. Babies suffer from intolerance of milk protein just because their digestive tracts are not fully matured yet.
Breastfeeding and Colic Remedies
Things you can do
Most babies with colic are easily consoled if they are rocked, walked around with, or even taken for a drive in a car.
Do not time feedings. Feed your baby when he is hungry. Colic infants may swallow extra air if feedings are left too late. How to recognize your baby's hunger cues.
Infants gas drops: To treat colic, the enzyme lactase can be given to a baby in the form of colic drops before each feeding, which relieves colic symptoms by metabolizing lactose.
The Windi, for baby colic relief, is our recommended brand. The Windi is a rectal suppository that relieves gas and pain almost immediately.
Burp colicky babies more often to release the trapped air.
Babies with colic are often more calm in a special baby sling; the movement has been found to relieve pain and gas.
Try Dr. Harvey's Cuddle cure to calm a baby. Watch the video here.
Hold your baby upright for at least 20 minutes after a feeding.
Boiron Cocyntal liquid is a "colic syrup" that is homeopathic; it relieves colic gas pain and irritability.
~ Interesting fact ~ Baby massage used for colic relief, is one of the best methods used to relieve the pain.

Breastfeeding and Colic Massage

Symptoms of Colic
Signs of colic pain
A well-known colic symptom is when a baby is very flatulent (gassy).
Your baby extends their legs while crying.
Baby does not want to be consoled and cries uncontrollably for no apparent reason.
Crying bouts are usually in the evenings.
A colicky baby is constantly clenching their fists.
Hard distended stomach.
Your baby spits up often.
Baby colic usually stops at about three months of age. Perseverance will be worth it when your baby is colic free and you are still breastfeeding. A colicky newborn may put extra strain on Mom and Dad's relationship.  
~ Interesting fact ~ The foremilk contains a lot of lactose, which may cause cramping, if Mom has an oversupply of milk.