Tips for Stress-Free Grocery Shopping With a Baby
We've gathered valuable tips to help make shopping with your baby or toddler easier.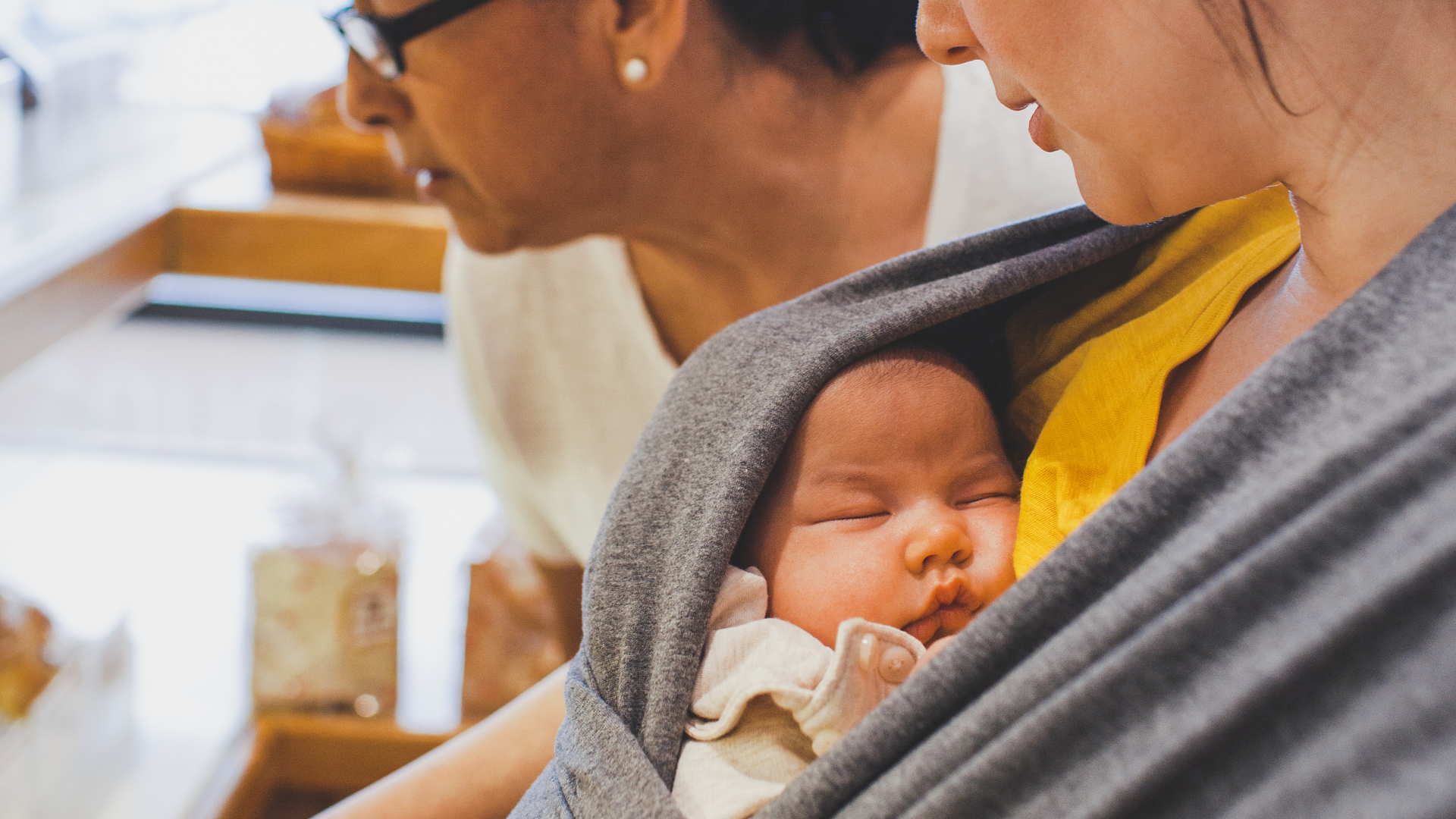 Shopping Trips and Breastfeeding
Tips to ensure a stress-free shopping trip with their baby if you are breastfeeding:
Breastfeed your baby right before leaving for the store. Try to schedule your shopping trips around your baby's feeding times. This way, your baby is more likely to be content and less fussy during the outing.
Wear comfortable clothing that allows for easy access to breastfeeding. Depending on how you feel about breastfeeding in public, consider tops with nursing flaps or layers for discreet breastfeeding.
Don't forget to take care of yourself as well. Remember, breastfeeding moms burn more calories. Bring a bottle of water and healthy snacks to keep your energy up during the shopping trip.
Choose a Breastfeeding-Friendly Store
If possible, select a store with family-friendly amenities, such as nursing rooms or designated breastfeeding areas. Many stores now offer these facilities to make it more comfortable for breastfeeding moms.
With a baby, your shopping trips may take a little longer than before. Be patient with yourself and your baby if you need to take breaks for feeding or comforting.
A baby carrier can be a great option for breastfeeding while shopping. It keeps your baby close and allows discreet nursing while shopping.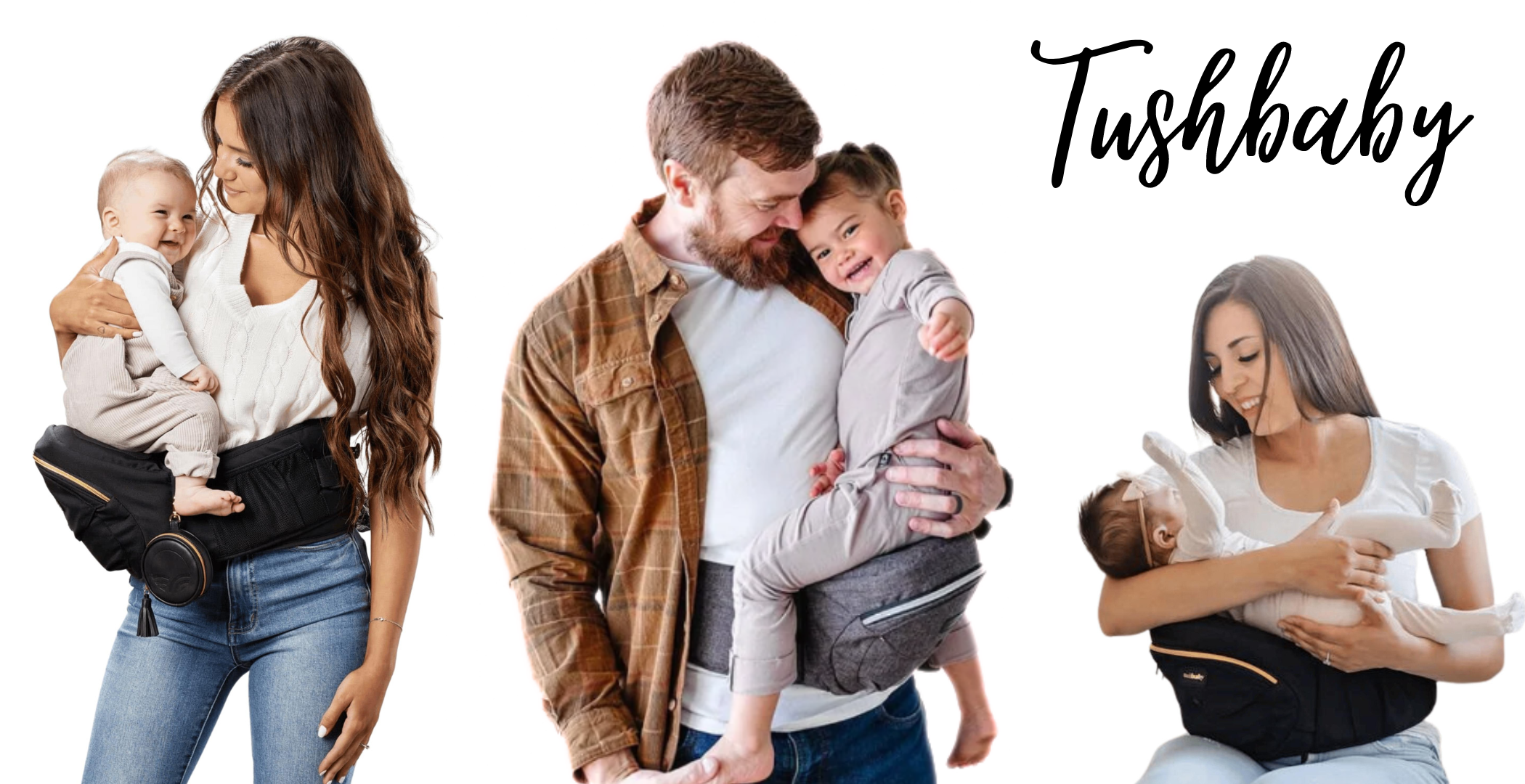 With its ergonomic design and comfortable waistband, Tushbaby provides optimal support for you and your baby. Say goodbye to shoulder and back pain from traditional carriers, as Tushbaby evenly distributes your baby's weight, relieving strain and promoting better posture.
Get 15% OFF
Using a Baby Carrier
Grocery shopping with a baby in tow can be daunting for parents, but the right baby carrier can make the experience significantly more manageable. Baby carriers offer parents a hands-free way to navigate the aisles while keeping their little one close and content.
Newborns often benefit from the snuggly fit of a wrap or a soft-structured carrier with infant inserts, while older babies may be more comfortable in a structured carrier or a hip carrier.
Some baby carriers (such as the Tushbaby) have built-in storage pockets or compartments. Take advantage of these features to store small items, such as your wallet, keys, or phone, for added convenience.
Breastfeeding and Comfort on the Go
Babywearing is a skill that becomes more natural with practice. It offers several benefits for both mothers and babies, including discreet breastfeeding in public, increased freedom for mothers to care for older children, and a comforting experience for the baby. Using a sling also supports the baby's spine, reduces colic and fussiness, promotes bonding, and encourages faster speech development. To ensure comfort and avoid back and shoulder strain, it's essential to choose a well-fitting sling and use it correctly. When buying a breastfeeding sling, consider factors like ease of use, durability, suitability for breastfeeding, comfort, and design.
Shopping Tips
Carry Only Essential Items
It's tempting to pack everything, but try to keep your diaper bag light. Overpacking can make the carrier uncomfortable and cumbersome. Carry only what you truly need, such as diapers, wipes, a change of clothes, and baby essentials.
Place frequently accessed items at the top of your diaper bag or basket for easy access. This minimizes the need to rummage through your bag.
Shop During Off-Peak Hours
Avoid crowded times by shopping during off-peak hours. This can make the shopping experience more relaxed and less overwhelming for you and your baby.
Take Into Account Your Baby's Schedule
Try to time your shopping trip to coincide with your baby's natural rhythms. If your baby typically naps after a feed, use this time to shop when they're asleep, making the outing more peaceful and stress-free.
Make sure your baby is dressed in comfortable, weather-appropriate clothing. Consider the temperature at the store and dress them in layers so you can adjust as needed. Depending on the weather, use accessories like a sun hat, blanket, or baby leg warmers to protect your baby from the elements and provide added comfort. These extra layers ensure your baby is cozy and protected during the trip.
Bring a few small toys or snacks to minimize fussiness and boredom during the shopping trip. These distractions can help keep your baby content and make the experience more enjoyable for both of you.
Opt for a parking space near the cart return area for convenience in loading groceries and returning the cart.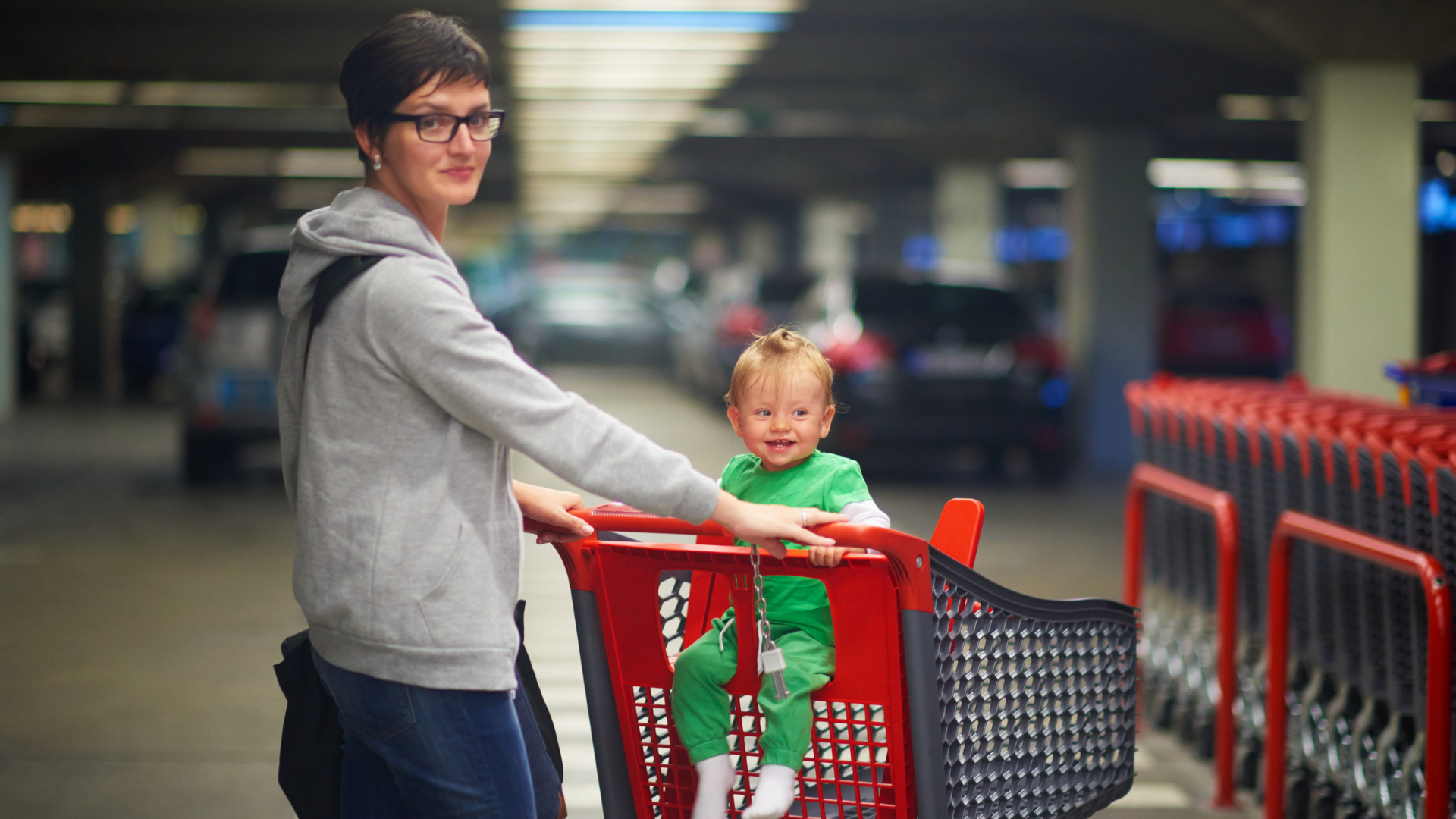 Tips for Stress-Free Shopping With Toddlers
Grocery shopping with children, especially when they are young and testing their boundaries, can often feel like an arduous task. If you dread your next supermarket trip with your little one, fret not.
Plan Your Shopping Together
Take the time to plan your groceries, and if possible, involve your child in the process. Before heading to the store, make a comprehensive shopping list. This helps you stay focused and minimizes the time you spend wandering the aisles, which can be especially challenging with a baby in tow.
Ensure your child is well-rested and in a good mood before embarking on your shopping adventure. A tired child is more susceptible to feeling overwhelmed and irritable in a grocery store's bright, bustling environment.
Involve Your Child in the Shopping Process
Children often become restless or unhappy while shopping because they're bored. Engaging your child in the shopping process can keep them occupied and foster their independence and self-confidence.
One effective way to involve your child is by giving them choices. Let them select their preferred type of pasta or yogurt flavor, for example, giving them a sense of ownership in the shopping experience.
Despite your best preparation and intentions, unexpected situations can arise. It's important to stand your ground, even if your child throws a tantrum in the middle of the store. Calmly and assertively remind your child of the agreed-upon rules.
Crucially, avoid getting into discussions and resist giving in to begging. Yielding to your child's demands will only teach them that such behavior can lead to success, and they may repeat it in the future.
Conclusion
In conclusion, learning how to grocery shop with a baby or toddler is an essential skill for new parents. It requires careful planning, choosing the right method to carry your child, and timing your shopping trips effectively. By following these guidelines, you can minimize the chances of a fussy baby or toddler during your grocery store visits.