Using Nursing Slings and Breastfeeding
Breastfeeding your baby in a nursing sling is a learned skill. It gets easier as you try and becomes second nature after a while. Breastfeeding a baby in a sling or 'babywearing' means sanity for most mothers and makes life much easier.
Breastfeeding slings for babies come in various styles, colors, and fabrics. You can use a sling for multiple purposes: calming, transporting, putting your baby to sleep, breastfeeding your baby, or keeping your baby near, while you do your work.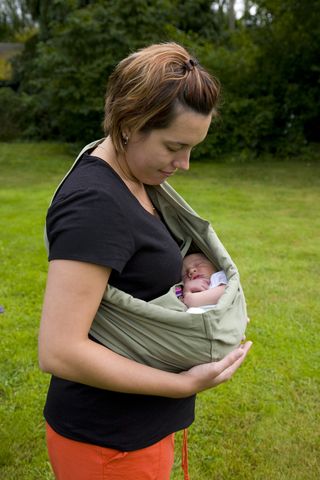 Advantages of Using Infant Slings
A nursing sling is discreet, so you can breastfeed in public without anybody even knowing.
You will have more freedom to look after older children if you have any.
It's comforting to a baby.
You can continue with your activities while breastfeeding.
Your breast is available most of the time, which will keep y milk supply up.
It reduces colic and fussiness.
Babies carried around in a nursing sling usually cry less than other babies.
Increased alertness and faster speech development because they are always near the mother.
It promotes bonding.
The baby falls asleep easier and is quickly laid to sleep.
A sling allows a father the opportunity to bond with his child too.
More significant support for a baby's spine.
A lactating mother produces more progesterone than her non-breastfeeding counterpart. This hormone promotes a mothering feeling of closeness and relaxation.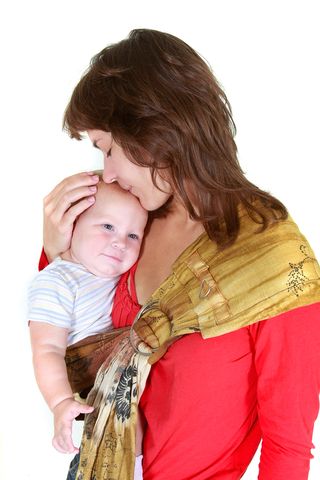 Tips for Breastfeeding With Baby Carrier Slings
Your baby's head should be opposite the ring of the sling or the part that goes over your shoulder.
Make sure that the sling supports your baby's bottom before standing.
The sling should be taken off and turned around to nurse your baby on the opposite breast.
You might need to adjust the sling to get your baby's head at breast level.
You might need to support your baby's head while nursing, but at least you still have one hand free!

Can the Use of a Breastfeeding Sling Hurt My Back and Shoulders?
Ensure that your sling is adjusted correctly and that it fits well. You can try different slings until you find one that feels comfortable.
Sit down and latch your baby properly before tightening the sling. This will ensure that you do not develop a stiff neck or back and that your baby is comfortable.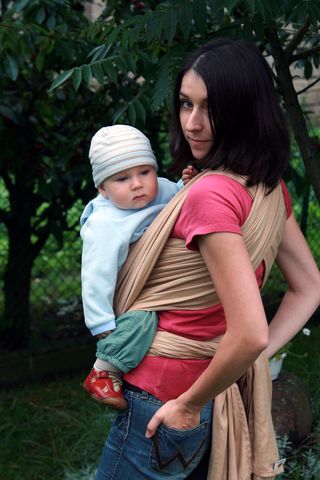 When Buying the Best Baby Slings for Breastfeeding
Ask yourself the following questions:
Is it easy to use, fasten, and adjust?
Is it durable and washable?
What age is the sling aimed at?
Is the sling suitable for breastfeeding?
Does the sling look comfortable?
Do you like the color and design?
Wearing a baby in a nursing sling or breastfeeding wrap is not just helpful for breastfeeding but also helps in many other aspects of the relationship and the development of a baby.
Mothers might feel more capable of dealing with a demanding baby in this way and might even continue to breastfeed much longer.
How to Nurse in a Ring Sling (Maya Wrap)