Baby Sleep Schedule - Improve Your Baby's Sleep.
Did you know that breast milk contains an amino acid that the body uses to produce melatonin, the hormone that regulates sleep?
Baby Sleep Schedule
The Initial Weeks
The initial weeks of a baby's life can be especially exhausting for parents. However, there are methods to make it easier and enable your baby to sleep for longer periods by incorporating certain techniques.
On average, a baby will sleep for around 20 hours in a 24-hour period, but it is normal for a newborn to sleep as little as 16 hours or as much as 23 hours in a day.
Infants sleep a significant amount of time during their early months of life as their brains are actively processing and absorbing a large amount of information. During the first three months, they spend more time sleeping than they do being awake.
From the time they are in the womb, babies have a general sleep pattern established, with periods of being awake and periods of rest.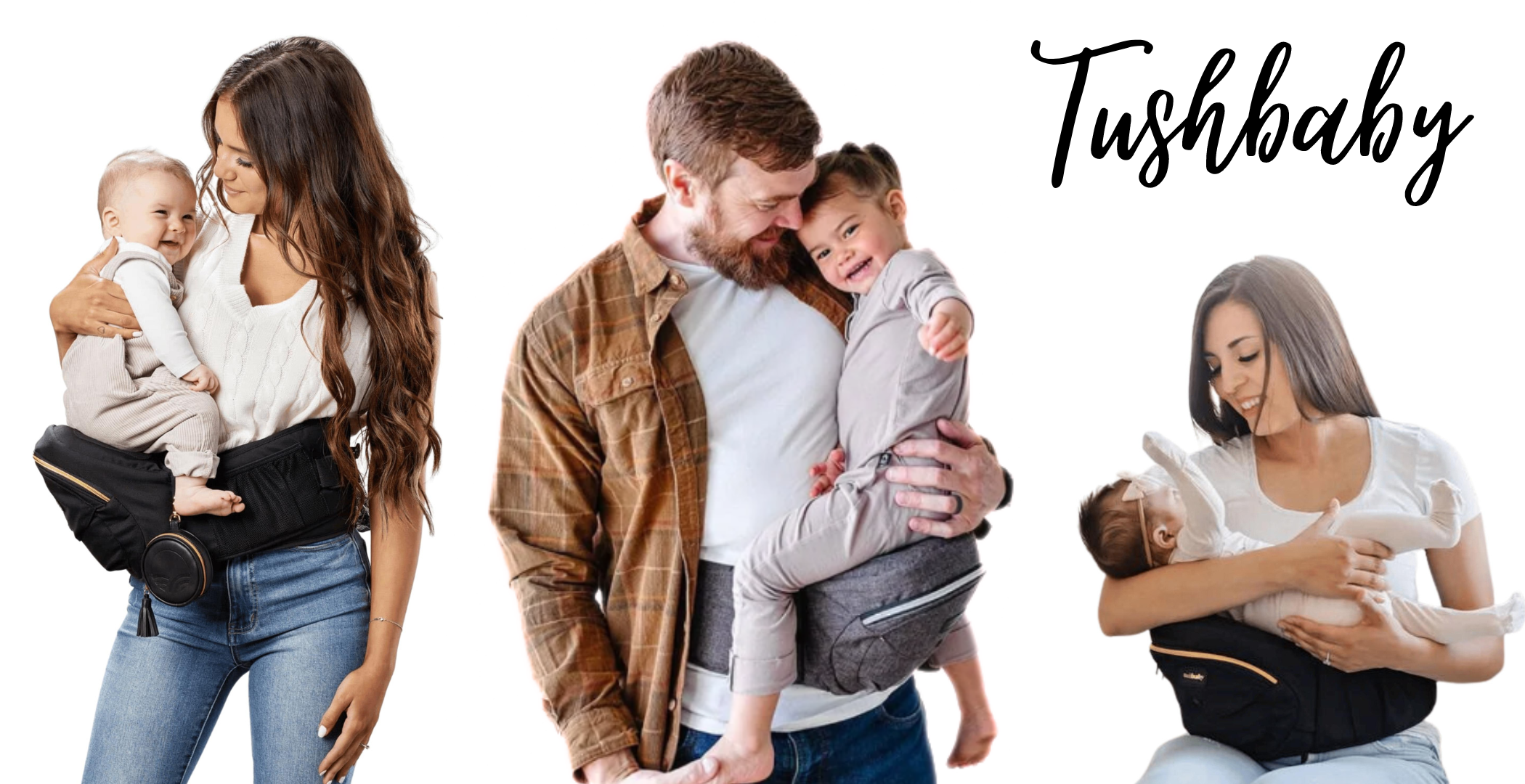 The Tushbaby Hip Carrier
With its ergonomic design and comfortable waistband, Tushbaby provides optimal support for you and your baby. Say goodbye to shoulder and back pain from traditional carriers, as Tushbaby evenly distributes your baby's weight, relieving strain and promoting better posture.
Get 15% OFF

How Breastfeeding Improves Sleep
The sleeping patterns of breastfed babies can differ slightly from those who are fed formula.
Did you know that breast milk contains an amino acid that the body uses to produce melatonin, the hormone that regulates sleep? Studies have shown that breastfed babies tend to fall asleep more quickly at bedtime and get more overall nighttime sleep.
The nutrients present in breast milk have a specific impact on how genes are expressed in your baby. If your baby receives breast milk instead of formula during their early developmental years, it can alter the expression of their genes, meaning that breast milk has the capability to activate or deactivate certain genes.
The nutrients in breast milk play a significant role in your baby's health and well-being, as well as their sleep patterns. Research suggests that babies who are exclusively breastfed during their first year have a reduced risk of inherited diseases and tend to have a more peaceful sleep as long as their other sleep needs are met. They also tend to have healthier sleep patterns overall when compared to formula-fed babies.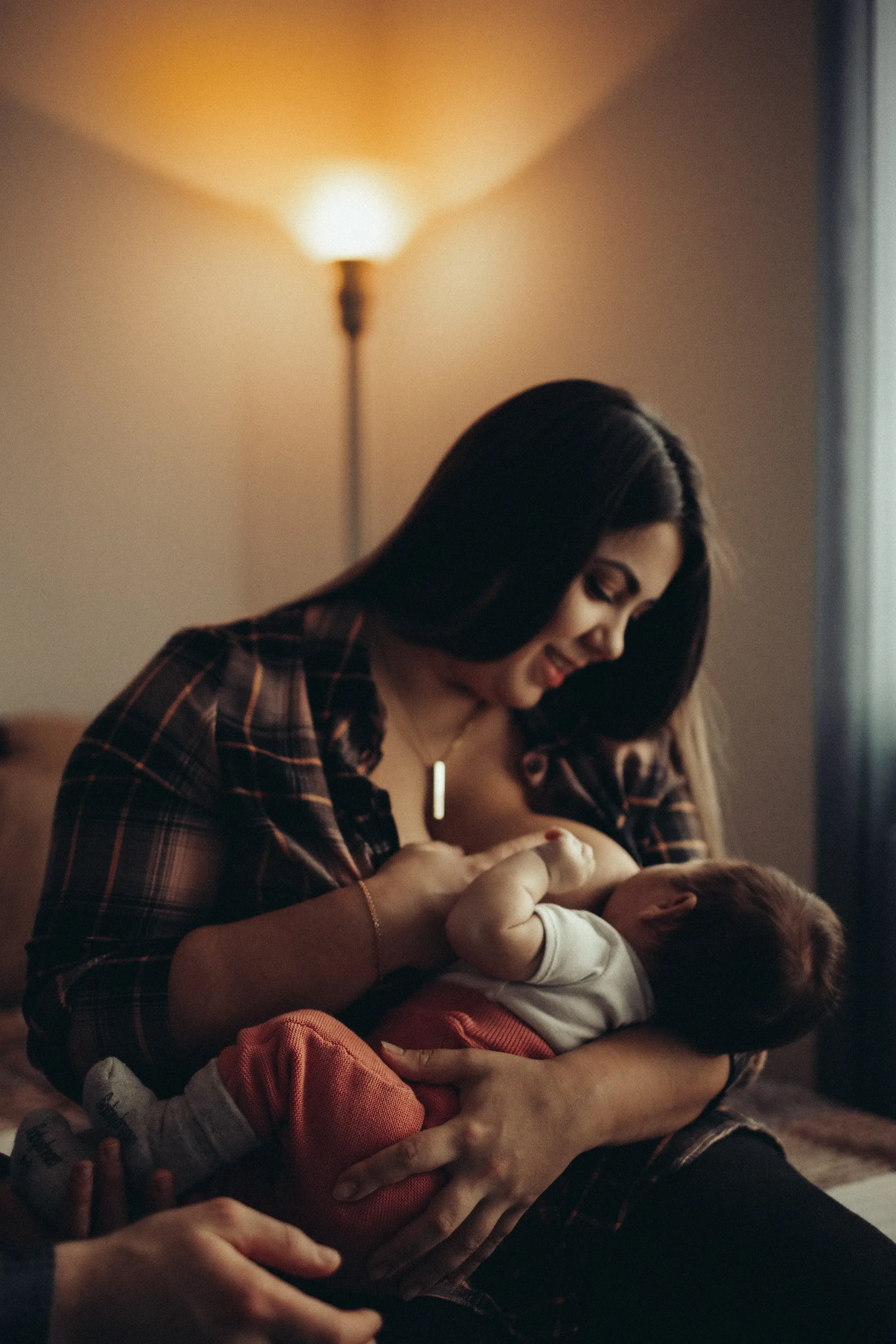 What Determines the Amount of Time Spent Awake?
Too much stimulation during times of needed sleep can cause over-tiredness. Too little stimulation during times of wakefulness could produce the opposite.
The Environment. If your baby is too hot, too cold, or has a wet nappy.
The age of your infant.
The health and well-being of your infant. ( fevers, aches and pains, vomiting, diarrhea, Colds and flu, and coughs can all interfere with sleep)
Nursing & eating habits of your infant.
Colic. It usually has to do with acid reflux or excessive gas.
Hunger (if the last feed was delayed or insufficient (too short). Hunger cues explained here.
The emotional health and well-being of the mother, especially during breastfeeding.
Immunizations.

Breastfeeding Class for Moms
Many mothers worry about breastfeeding not working for them, the pain and struggles associated with latching, and concerns about milk supply. The course tackles these fears head-on.
The course offers 13 easy-to-watch lessons, providing a step-by-step guide to breastfeeding.
Sign Up
Day-by-Day Sleeping Patterns of Newborns

Day one
After birth, babies often have a good meal and then quickly fall asleep. Your baby will typically sleep in intervals of 2-3 hours, waking for only 30-45 minutes in between. They will quickly return to sleep after a feeding and changing session.
Day two
On the second day, your baby will experience a significant shift as they become aware that they are no longer in the womb. The unfamiliar sensation of hunger, different sounds, voices, clothes, and environment can greatly impact your baby's sleep pattern as they adjust to these unexpected changes.
The First Week
By three weeks of age, your baby will start to establish more consistent sleep and feeding patterns.
You can ensure your baby is getting enough milk by breastfeeding at least 8-12 times per day, which should result in them producing at least six wet diapers in a 24-hour period. Consistent urine and stool output are indicators that your baby is getting enough milk. However, it's important to note that there is no set schedule for your baby's sleep and wake times during this stage.
During sleep, the brain processes and organizes information; for a newborn, everything is new and unfamiliar. Therefore, your baby needs to sleep to process all this new information, usually waking every 2-3 hours for feedings, including nighttime, and only staying awake for about 45-60 minutes before needing to sleep again.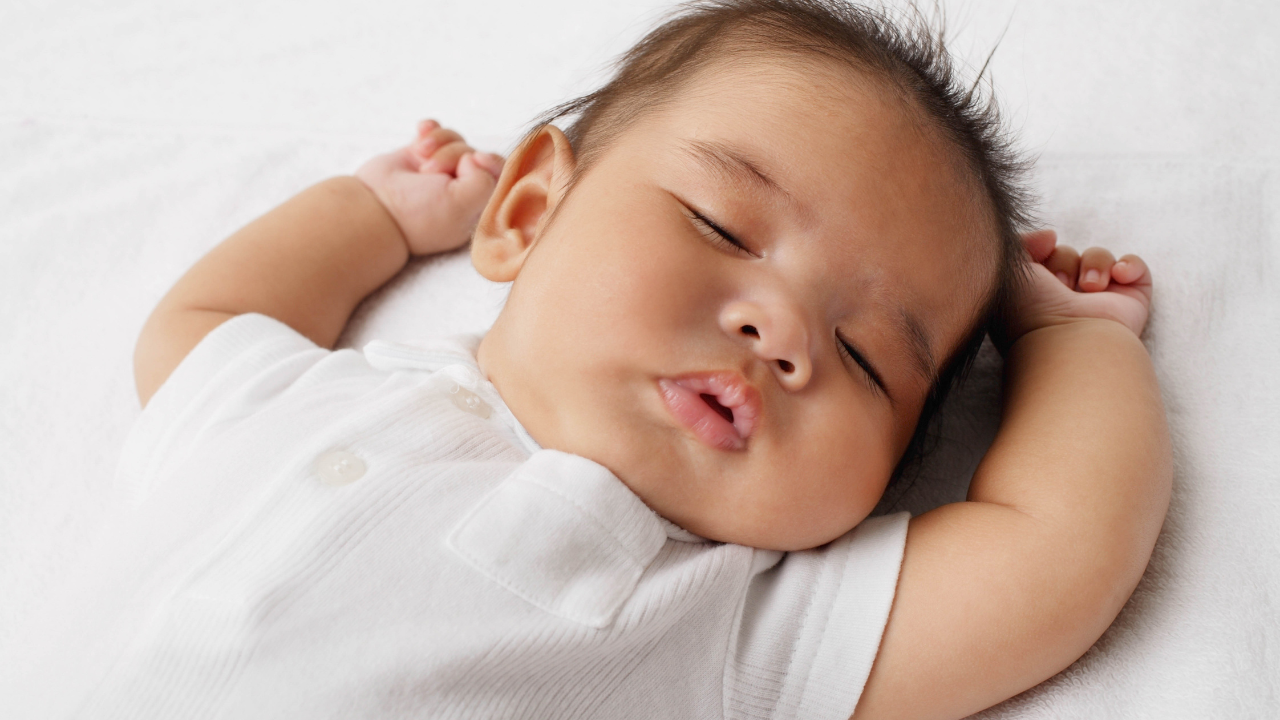 Week 2
At this age, your baby will experience six distinct stages of wakefulness throughout the day, cycling through them several times. Your baby's sleeping patterns will be variable, typically sleeping every 4 hours on average, with the duration of each sleep period ranging from 45 minutes to 1 and a half hours, depending on how long they stay in each stage.
Deep sleep (Baby is unresponsive)
Lighter sleep (baby will react and awaken at the slightest noise).
Drowsiness. (baby's eyelids drooping, they may also yawn, stretch or jerk their limbs as signs that they are ready to fall asleep)
Quiet alert stage (The eyes are wide open, and the body is relaxed)
The active alert stage (your baby's face and body movements become more active)
Restless stage (crying, body movements in a disorganized manner).

Week 6
Around six weeks of age, you may begin to notice that your baby's days and nights start to follow a predictable pattern. Establishing a consistent schedule will assist in signaling to your baby's brain when it is time to be awake and when it is time to sleep. Keeping interaction to a minimum during nighttime will help your baby understand that this is a time for sleep, while active interaction during the day will help your baby recognize when it is time to be awake.
3 Months
By three months old, your baby may be able to stay awake for a period of time between one to 90 minutes during the day, with a stretch of sleep in the evening from 6/7 pm to 10 pm, and then wake again around 1 or 2 am for a feeding. After that, your baby will likely wake every 3-4 hours for a feeding. It is important to identify your baby's sleep cues and aim to have them settled in the crib by the time those cues start to appear. Additionally, try to place your baby in the crib while they are drowsy but not yet asleep, and ensure that the atmosphere is quiet, dark, and calm to facilitate a peaceful sleep.
From 3 Months Onward
As your baby grows, their sleep patterns will become more established. From now until their first birthday, they will likely sleep for longer stretches at night and have longer periods of wakefulness in between. On average, they will probably sleep for around 3-4 hours at night, with short wakeful periods in between, and take one or two naps during the day that last for 2-4 hours, with the remainder of the time spent awake. By the time your baby is consistently sleeping through the night, you will have had plenty of time to catch up on rest as well. Below are a few tips to help your baby reach this stage sooner.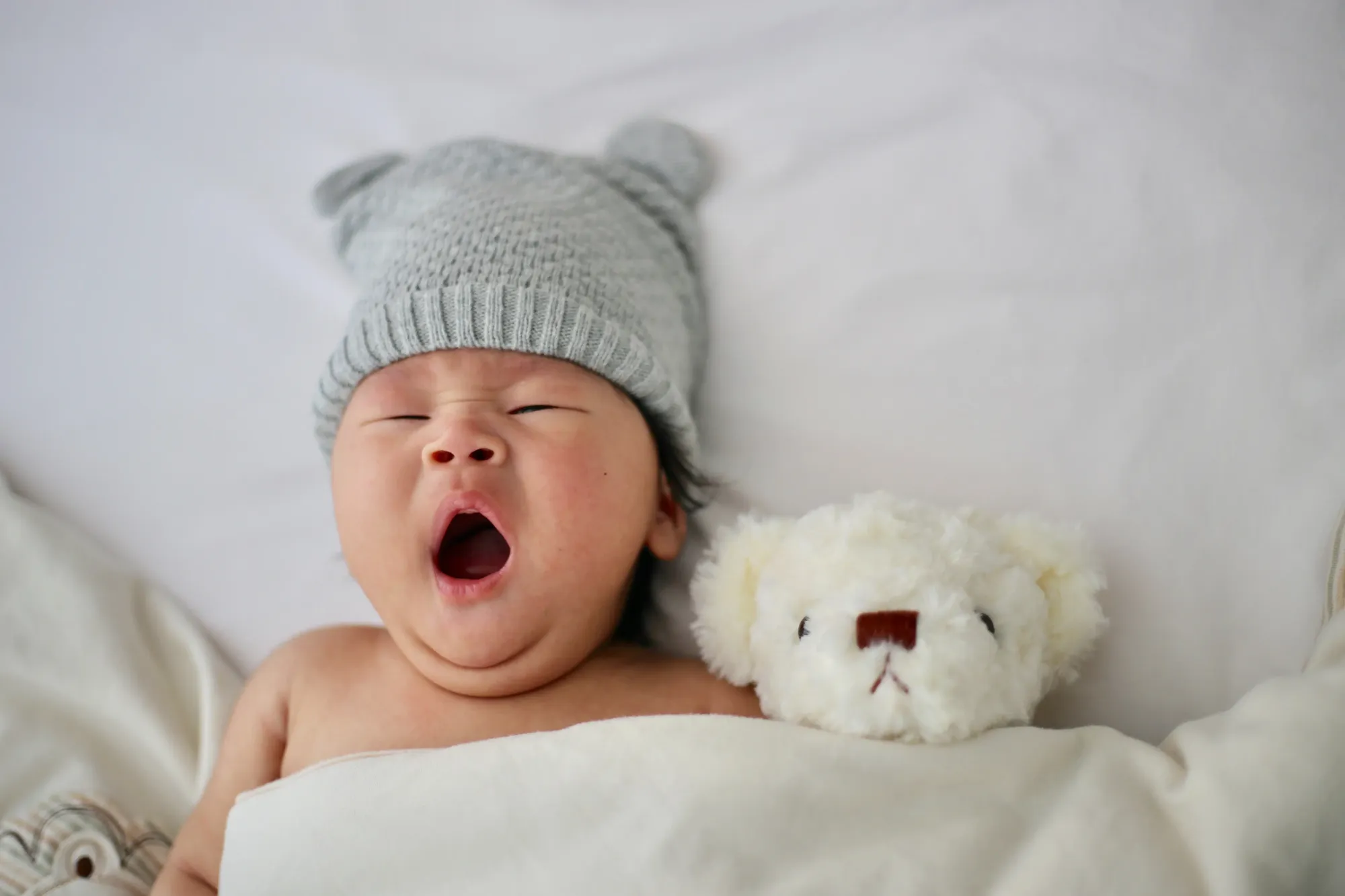 Baby Sleep Training Methods
Giving your baby a warm bath before bed can be a soothing way to help them relax and feel sleepy. Establishing a consistent bedtime routine can also be helpful. Aim to keep things calm and quiet in the evening, starting around 6 pm. A consistent routine such as bathing, reading a story, nursing/bottle feeding, and putting your baby to bed in that order at the same time every night can help establish a sense of predictability for your baby and let them know that it's time to sleep. Remember, babies, thrive on consistency and routine.
Try to keep your baby's sleep schedule routine to around 20 minutes or less. Any longer than that may become too stimulating for them and make it harder for them to fall asleep.
For older babies, maintaining a consistent nap schedule during the day can lead to better sleep at night. Preventing your baby from napping during the day will not lead to longer stretches of nighttime sleep and can make it harder for them to fall asleep at night due to being overtired.
Sleeping in close proximity (co-sleeping) to your baby for the first few weeks of their life can make a big difference in the amount of sleep you're able to get.
When a baby is overtired, it can be difficult for them to fall asleep and stay asleep. If you think this might be the case with your baby, try putting them to bed a bit earlier in the evening as a solution.
A baby four months or older who wakes up during the night may not necessarily be hungry. It's possible that the baby had a dream and simply woke up. Babies also commonly experience sleep disruptions during developmental milestones and growth spurts, such as when they are learning to sit and crawl.
You don't have to change your baby's diaper every time you check on them at night. Only change the diaper if it is very heavy or your baby has had a bowel movement. Keep in mind that changing a diaper can wake them, so avoid it if possible. If a diaper change is necessary, use a warm cloth instead of a cold wet wipe. Changing the diaper before you feed your baby during middle-of-the-night feedings is also a good idea.
Set a consistent wake-up time for your baby each morning. This will help them establish a more regular sleep schedule.
Encourage your baby to fall asleep independently. If they wake up during the night, give them a chance to put themselves back to sleep without immediately intervening. Also, during the day, gradually get them used to fall asleep independently rather than constantly holding them. This will help them learn to self-soothe and fall asleep on their own.
When putting your baby to sleep, try to avoid making eye contact with them. Your baby may interpret this as a sign to play, making it more difficult for them to fall asleep. It's important to create a peaceful and sleepy environment for them to sleep.
If your baby tends to sleep more during the day than at night, keeping the room well-lit during daytime naps can help regulate their sleep schedule. This helps to create the distinction between night and day and promotes better nighttime sleep.
When checking on your baby at night, only enter their room if you are certain they are fully awake. If your baby makes a noise, it's best to wait a bit to see if they will settle down and fall back asleep on their own. Additionally, don't wait too long to check on your baby if they are crying. If they have become fully awake and distressed, it will be more difficult to calm them down and get them back to sleep.
Avoid using rocking or other motions to help your baby fall asleep. Your baby needs to learn how to fall asleep on their own. It is also not recommended to put your baby to sleep in a moving swing, as it can prevent them from achieving deep sleep.
Swaddling is a technique that can help some babies fall asleep faster and stay asleep for longer periods. It's considered to provide a sensation of snugness and security that babies find comforting.
Soothing sounds can be beneficial in calming down your baby. White noise or soft music can have a calming effect. Youtube has many free options - "baby white noise sleep".
A blocked nose can prevent a baby from sleeping and make them uncomfortable. To help your baby breathe easier, Keep their environment dust-free, and to help clear their blocked nose, you can use breast milk. Express a few drops into your baby's nose and gently suction it out using a bulb syringe.
Giving your baby a massage before bedtime can be a great way to soothe them and help them relax. Massaging with some relaxing essential oils can enhance the experience (for babies three months and older). It is a wonderful routine that can help with a baby's sleep and create a peaceful environment before bedtime. It's important to consult with a pediatrician or a qualified aromatherapist before using essential oils on your baby.
To help your baby's body relax and prepare for sleep, it's important to keep the room as dark as possible during nighttime feedings. Darkness triggers the release of the sleep hormone melatonin, which can help your baby fall asleep more easily. During the day, expose your baby to as much natural light as possible. This will help to regulate their sleep-wake cycle and promote healthy daytime sleep.
Giving Your Baby Solids
Introducing solid foods, including cereal mixed into milk, to your baby before they are developmentally ready will not improve their sleep patterns. Introducing solids before four months can harm the breastfeeding relationship, as the baby's digestive system is not mature enough to handle solids. For this reason, it is important to follow the guidelines of a pediatrician and wait until your baby is around six months of age before introducing solid foods.
In Conclusion
If your baby sleeps less than 14 hours per day, it's important to consult a pediatrician to rule out any underlying medical conditions affecting their sleep. A pediatrician can determine if any health concerns need to be addressed and can provide guidance on how to improve your baby's sleep.
I hope the information provided benefits you as a new parent. It's important to understand the significance of rest for you and your baby during this period. I wish you and your baby good health and the ability to fully enjoy this experience together.
Resources:
The expectant mother's guide 2018
The wonder of life Lennart Nilsson (translated from Afrikaans).