Breast Milk Jewelry Kit
A one-of-a-kind keepsake. Commemorate your journey through motherhood with breast milk jewelry.
For many mothers, breast milk jewelry is a way to memorialize and honor the experience of breastfeeding and motherhood. It is a tangible way to hold onto a special time in a mother's life and can be a comforting reminder of the love and bond between a mother and her child.
How Is It Made?
Creating breast milk jewelry involves a careful process of preserving and casting the breast milk to ensure that it maintains its color and integrity. First, the breast milk is collected and mixed with a special preserving agent. It is then poured into a mold and left to harden. Once the breast milk has fully set, it is removed from the mold and polished to create a smooth and shiny finish.
Breast milk is a unique and complex substance, and its properties can affect the appearance of the final piece of jewelry. The color and clarity of breast milk can vary from one person to another, and it may change over time as the mother's diet or the baby's age changes. These variations can give each piece of breast milk jewelry a unique and individual appearance.
Make Your Own Breast Milk Jewelry
Milky Treasures Breast Milk Jewelry Kit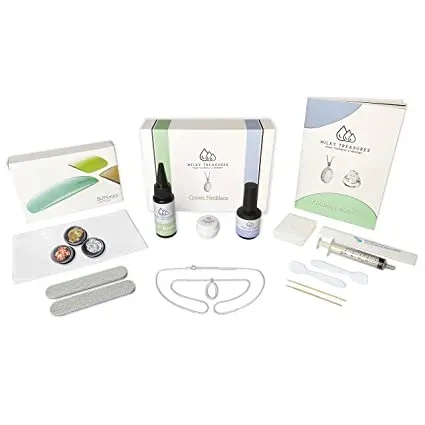 The Milky Treasures Breastmilk Necklace Making Kit is a do-it-yourself (DIY) kit that includes everything you need to create a piece of jewelry made from your own breast milk.
The kit includes a beautiful 925 Sterling silver crown necklace base setting and chain, as well as a high-quality UV resin and preservation powder formula to prevent the breast milk from spoiling over time. It comes with detailed instructions on how to create the breast milk stone, which can be accessed through a QR code within the product book or on your phone. It is designed to be easy to use, with no special skills required.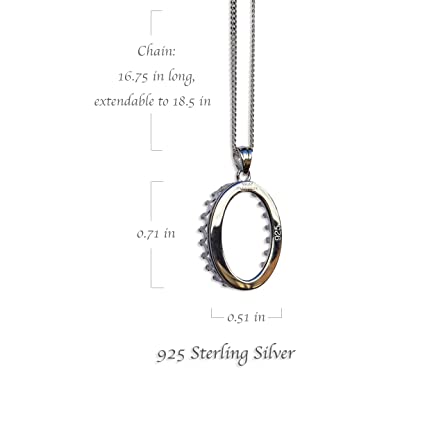 One of the unique features of the kit is that it allows for customization with three different flake options (gold, silver, and rose gold) that can be added to the breast milk stone to give it a unique and personal touch. The kit also includes a UV lamp, which is used to cure the resin and harden the breast milk stone in just a matter of seconds.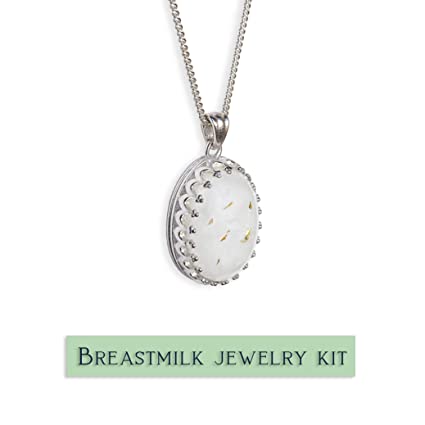 Overall, the Milky Treasures Breast milk Jewelry Kit is a great option for mothers who want to create a unique and sentimental piece of jewelry to remember their breastfeeding journey. It is a high-quality kit that includes everything you need to get started, and the instructions are easy to follow. The kit is also reusable, with the option to purchase additional molds for creating new rings or necklaces.